The 3-star superior hotels of Pinarella, a top-quality vacation at affordable prices
The quality of a 4 star at the price of a 3 star.  The superior 3 star hotels in Pinarella offer you everything you have always looked for in a hotel at affordable prices. Exclusive prices reserved for these hotels to make your holiday unique, saving on the reservation.
FILTER YOUR SEARCH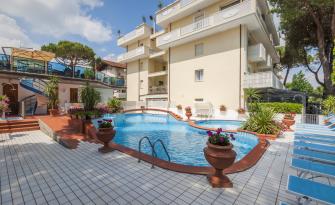 Situated a short distance from the sea and surrounded by a lush pinewood forest, our accommodation facility has welcomed guests for over 40 years.
Hotel Donatella
Via Mezzanotte, 7 - Pinarella