Your stay in Romagna at the Igea Marina apartments
The apartment accommodation options near the sea of Igea Marina are interesting as they are perfect for families, young people in holiday and small or big groups of friends. The apartments are completely furnished, with modern comforts and security systems, balconies, air conditioning, services for disabled persons and many other amenities to satisfy everyone's needs.
Apartments "MARE" 1. ESPERIA Residence - Via Ovidio. Modern new building, placed 50 mts. far from the seaside in a quiet area.
Agenzia Mare
Viale Pinzon, 203 - Igea Marina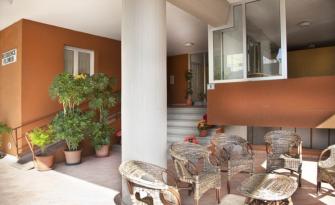 New and modern building is set at 50 mt from the sea, with completely indepentent and confortably furnished apartments with living-room, kitchen, one, two or three bedrooms,...
Residence Flower
Via Perseo Flacco, 9 - Igea Marina