Igea Marina
To spend a holiday with your family or friends in a residence Igea Marina is the ideal opportunity to save money and stay together in comfortable flats provided with 4 beds or more, kitchen, laundry, balcony and living room, and to spend unforgettable holidays based on privacy and relax.
There is a wide range of 3-star or cheap 1- and 2-star residences designed to suit every requirement as far as services and prices are concerned. The skilled employees working at the reception ensure flats are regularly cleaned and both car park and bike depot monitored, and provide guests staying here all the information they need.
The residences provide special agreements with the nearby restaurants, bathing establishments and funfairs of the area. The residences situated near the city centre are a short walk distance from shops, supermarkets, sports centres and fitness centres, as well as from the sea and the most glamorous clubs in the area.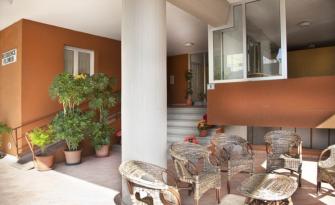 New and modern building is set at 50 mt from the sea, with completely indepentent and confortably furnished apartments with living-room, kitchen, one, two or three bedrooms,...
Residence Flower
Via Perseo Flacco, 9 - Igea Marina
Apartments "MARE" 1. ESPERIA Residence - Via Ovidio. Modern new building, placed 50 mts. far from the seaside in a quiet area.
Agenzia Mare
Viale Pinzon, 203 - Igea Marina