Information on vacations in Riccione

Information and booking service for your holidays in Riccione: hotels, guesthouses, inns, cottages, town flats and campsites
We will help you to find an hotel in Riccione: four-, three-, two- and one-star hotels and cheap guesthouses. We also offer town flats, cottages, campsites and restaurant to stay in Riccione all the year round.
You can find charming photos, the weather forecast and the pictures filmed by the web cam situated on the beach of Riccione.
 Have a look at all the events and shows you can join in the Province of Rimini.
Among the most popular resorts in the Riviera Romagnola, Riccione is characterized by its elegance and by the fun opportunities it offers. In summer its beaches are visited by young people, families and other tourists looking for high quality services and a warm welcoming.
The sun and the sea are the main attractions and people lay down on the beach till night to tan, relax or play sport. There are modern bathing establishments which offer safe games for children, entertainment, gyms, swimming pools and other facilities. Not to be missed are the modern theme parks among the most popular in Italy able to catch the attention of both adults and children.
At lunch or dinner you can taste the renowned delicacies from Romagna or eat fish in the numerous restaurants situated on the beach. There are also renowned and elegant (but often very expensive) restaurants situated in the city centre and cheaper restaurants which offer the traditional cooking from Romagna. Not to be missed is the walk along the most famous tree-lined avenue in Riccione, Viale Ceccarini, where you can meet celebrities while you stroll along the glamorous shops and boutiques, eat an ice-cream or have a drink in a club.
Young people in Riccione have different opportunities. They can meet people and enjoy the popular night life from Riccione, with its discos and clubs on the beach, which is what most people coming to the "Gem of the Adriatic Sea" are looking for. In winter the city livens up thanks to several events which attract many visitors.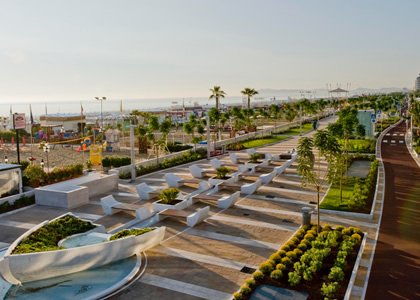 Video
WEATHER INFO