Information on vacations in Cesenatico

Information and booking service for your holidays in Cesenatico: hotels, guesthouses, inns, cottages, town flats and campsites
We will help you to find an hotel in Cesenatico, Valverde, Villamarina and Zadina Pineta: four-, three- and two-star hotels and cheap guesthouses. We also offer town flats, cottages and campsites to stay in Cesenatico all the year round.
You can find charming photos, the weather forecast and the pictures filmed by the web cam situated on the beach of Cesenatico. Have a look at all the events and shows you can join in the Province.
The old town of Cesenatico is situated around the ancient harbour which maintains the original structure designed in 1500 by Leonardo da Vinci.
Cesenatico, a former seamen village, maintains an ancient fascination able to catch the visitors' attention.
The harbour offers guests a fascinating walk and the possibility to discover the narrow streets of the city centre liven up by lively clubs and fish restaurants furnished in a fishing style and also the modern district of Viale Carducci, parallel to the sea front, where the main tourist services, hotels, restaurants and discos opened all night long developed.
A street named after the poet Marino Moretti, who wrote important works concerning the city and its traditions, leads guests to the visit of the house where he lived and worked. The Museo Marco Pantani is named after the popular cyclist from Cesenatico who recently died.
In summer tourists and inhabitants relax on the beach. There are well equipped and comfortable bathing establishments and bars which offer appetizers and snacks. The evenings in the city centre are rich in entertainment and shows which liven up the warm summer nights with the traditional attitude from Romagna.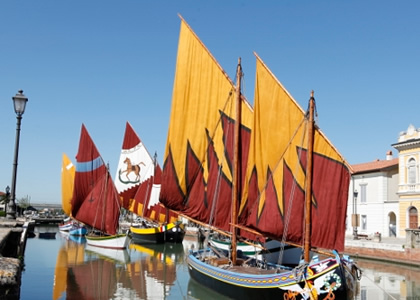 Video
WEATHER INFO