Information on vacations in Cattolica
Information and booking service for your holidays in Cattolica: hotels, guesthouses, inns, cottages, town flats and campsites
We will help you to find an hotel in Cattolica: four-, three- and two-star hotels and cheap guesthouses.
We also offer town flats and cottages to stay in Cattolica all the year round.
You can find charming photos, the weather forecast and a list of all the events and shows you can join in the Province of Rimini.
Situated between the provinces of Rimini and Pesaro, the small town of Cattolica retains the typical traditions from Romagna even if it is also under the influence of the Marche region.
The ideal solution for the holidays of the whole family, the summer in Cattolica offers pleasant moments of fun and relax both for adults and children.
Its beaches are situated in a strategic position on the slopes of the promontory of the Monte di Gabicce, in the Marche region, which gives its coast fascinating spots.
It is possible to play many sports and activities as an alternative to a whole day spent under the beach umbrellas. There are beach volley and beach tennis grounds and most adventurous people can also experience kite surf under the supervision of the trainers of the schools situated in Cattolica. Children can take advantage of a beach equipped with every kind of games and of a safe sea with shallow and sandy waters.
Cattolica also offers young people fun opportunities thanks to its glamorous clubs situated on the beach or along the avenues of the city centre where it is also possible to go shopping in the beautiful boutiques, to eat an ice cream, to meet people or to dance till dawn.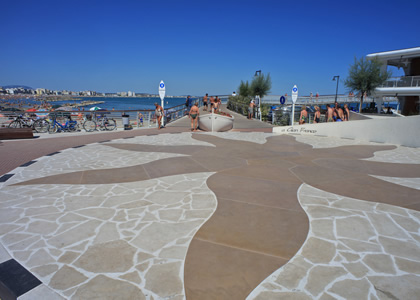 WEATHER INFO