Information on vacations in Misano Adriatico

Information and booking service for your holidays in Misano Adriatico: hotels, guesthouses, inns, cottages, town flats and campsites
We will help you to find an hotel in Misano Adriatico: three- and two-star hotels and cheap guesthouses. We also offer town flats and cottages to stay in Misano Adriatico all the year round.
You can find charming photos and a list of all the events and shows you can join in the Province of Rimini.
Misano Adriatico is a seaside resort situated in the Riviera Romagnola which in summer becomes an international tourist centre visited by tourists from all over the world. Thanks to its sandy beach and its calm sea, Misano is an ideal holiday destination for families. The original urban centre is situated on the hills of Misano Monte where you can go to gain an outstanding view over the sea.
Many people arrive in Misano by boat. Portoverde, the small tourist harbour in Misano which promotes many activities linked to high quality tourism, welcomes visitors travelling by boat with its wide range of glamorous shops and elegant restaurants and clubs. Every day tourist motor ships leave from Portoverde to offer excursions along the coast or in open sea. Many tourists fish from the wharfs or the breakwater rocks used to stop the natural soil erosion  and to grant a calm sea all the year round.
Beyond its beach, Misano Adriatico is also famous all over the world for its circuit of Santa Monica where the best pilots in the world compete in front of a large public.
The territory of Misano extends up to the hinterland and is surrounded by green hills and the natural oasis of the river Conca where you can make excursions or have lunch in the traditional trattorias from Romagna.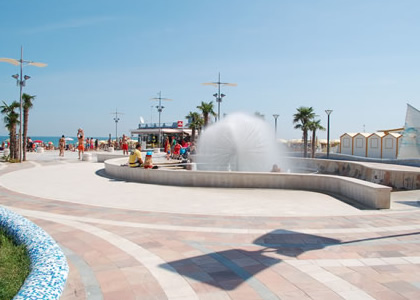 WEATHER INFO