Information on vacations in Gabicce Mare

Information and booking service for your holidays in Gabicce Mare
You can find charming photos, the weather forecast and all the events and shows you can join in the Province of Rimini.
The first seaside resort in the Marche region after you cross the border of Emilia Romagna, Gabicce Mare is an ideal tourist destination. The great transformation it undergoes during summer, when tourists from all over Europe crowd it, does not jeopardize the quiet atmosphere beloved by families and by people looking for relax.
The sandy beaches are ideal for children and for people who want to make long  walks along the sandy shore and the sea has shallow waters suitable for the bathing of children. The numerous equipments give the possibility to play beach volley, beach tennis and bowls. The beaches of Gabicce has gained for several years an important award, the Bandiera Blu, which witnesses the high quality of its tourist services.
Who wants to discover this area can reach the famous "Baia Vallugola", the small and fascinating tourist harbour surrounded by the mountains which constitute the promontory of the Monte di Gabicce.
To gain a wonderful view over the Riviera Romagnola and the sea of Gabicce, you have to reach Gabicce Monte, situated on a hill and provided with many hotels, restaurants and clubs which offer an outstanding view both during the day and at night.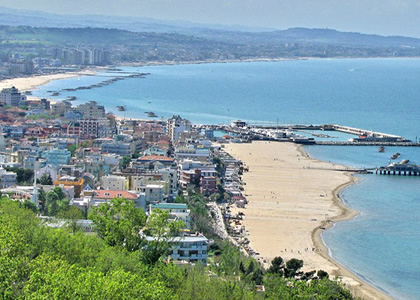 WEATHER INFO