Information on vacations in Cervia

Information and booking service for your holidays in Cervia: hotels, guesthouses, inns, cottages, town flats and campsites
We will help you to find an hotel in Cervia: four- and three-star hotels and cheap guesthouses. We also offer town flats and cottages to stay in Milano Marittima and Cervia all the year round.
You can find charming photos, the weather forecast and a list of all the events and shows you can join in the Province.
Cervia is a small sea resort of the Riviera Romagnola whose history is linked to its salt pans and to the salt production which takes place in the historic warehouses. Surrounded by a lush pinewood forest and populated by many species of birds which nest in the salt pans, Cervia is part of the protected area of the Parco Delta del Po.
Thanks to its history, its nature and the beauty of its beaches, Cervia attracts many visitors every year, granting all of them an interesting, pleasant and high quality holiday. In the millenary pinewood forest of Cervia you can spend pleasant days walking or cycling along the environmental itineraries.
In this fascinating natural environment situated next to the Parco Delta del Po there is also a modern and well equipped spa establishment provided with swimming pools which exploit the benefits of the salt waters and offer regenerating mud baths.
The city centre hosts important historic and artistic buildings such as the Torre S. Michele and the Cattedrale. Interesting places to visit are the former salt warehouses, nowadays an exhibition area. For young people there are many glamorous clubs near the beach where they can meet to have an appetizer after a day spent tanning under the sun.
Cervia is also famous for its sports centres and for the numerous activities organized on the beach. The summer in Cervia is rich in culture and shows and offers guests fun and entertainment.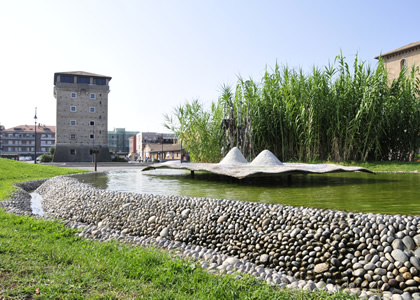 Video
WEATHER INFO