All the comfort of the 3-star hotels of Gabicce Mare
Perfect for a complete holiday at the right price, the 3 star hotels in Gabicce Mare are the ideal choice for people who are looking for comfortable accommodation at affordable prices.  These hotels offer many comforts and rooms equipped with all the most modern facilities.  There are often benefits available, like agreements with parks and the beach, together with the great attention paid to the needs of families with children.
FILTER YOUR SEARCH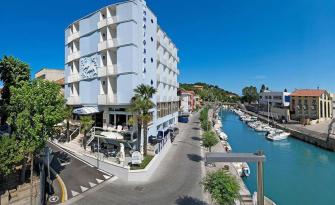 Hotel Majorca is a cosy, 3-star family-run hotel, located in an ideal position, facing the port of Gabicce Mare and a stone's throw from the beach.
Hotel Majorca
Via I° Maggio, 12 - Gabicce Mare